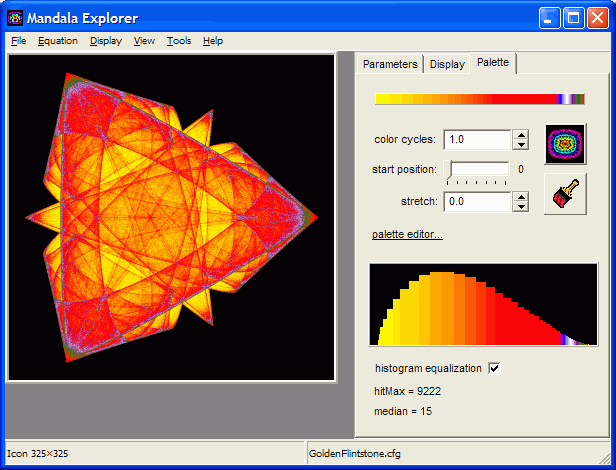 Download Mandala Explorer (563 KB)
Getting Started
• Unzip the download file, MandalaExplorer.zip, into its own folder. The folder will contain the program file, MandalaExplorer.exe; the help file, MandalaExplorerHelp.chm; and a folder called Mandala Explorer Configuration Files. Unless you choose a different location for saving files, Mandala Explorer does not modify any files outside its own folder.
• Windows 9x, NT, or greater is required. When displaying a hit-count image (which uses more memory than a regular one) full-screen at a resolution of 1280×1024, the program appears to use about 13MB of memory.
Mandala Explorer version 1.1.0.2 © 2008 by Russell W. Cottrell is freeware.
Donations may be made via PayPal to noresponse@russellcottrell.com, any amount.
More information about the Latööcarfian and Icon fractals:
• Chaos in Wonderland
by Clifford A. Pickover.
New York: St. Martin's Press, 1994.
• Symmetry in Chaos
by Michael Field and Martin Golubitsky.
Oxford: Oxford University Press, 1995.