You may not need these. If you are using an up-to-date version of Photoshop or PhotoLine with Windows XP, the standard plugin versions on the individual download pages should work, and are preferred. The XP plugins below were compiled with an older version of FilterMeister and may be needed if you are using Photoshop CS4 or earlier, or IrfanView. They are all 32-bit.
Download
Download the zipped file, then copy the plugin, the help file, and the demo registration key into your plugins folder. The filter will appear under "RC Filters."
AdaptiveContrastCurve_XP.zip version 1.202, 349 KB.
AdaptiveHistogramEQ_XP.zip version 1.202, 345 KB.
ChannelSaturation_XP.zip version 1.201, 325 KB.
FineUSMSharpen_XP.zip version 1.201, 351 KB.
GlamourBlur_XP.zip version 1.201, 334 KB.
HueSaturationChannels_XP.zip version 1.2, 295 KB.
Retinex_XP.zip version 1.201, 326 KB.
RGColor_XP.zip version 1.2, 313 KB.
SaturationMask_XP.zip version 1.2, 313 KB.
UltimateHueSaturation_XP.zip version 1.2, 352 KB.
VHRContrastMask_XP.zip version 1.202, 315 KB.
VHRHighPassContrast_XP.zip version 1.202, 325 KB.
VHRShadowsHighlights_XP.zip version 1.202, 321 KB.
VHRUnsharpMask_XP.zip version 1.202, 346 KB.
Registration
The unregistered filters will save images up to 720 pixels in width and/or height. Please purchase a registration key for $9.00 which unlocks all of the RC Filters. Use the PayPal link below and I will e-mail you a text file (RCFKey.txt) to copy into your plugins folder. Be sure to use a valid e-mail address (I don't sell or give them away). I check my e-mail for payment notifications every morning, Pacific time, and other random times; if you do not receive a key within one day it means I am in the hospital. If you paid for any of the RC Filters before keys were used, message me and I will send you a key. The filters come with a demo key; if properly installed, the dialog will say "Demo key" when you click the About button. Questions . . . .
The filters, the help files, and the registration key all go into the same folder. It may help to make an RC Filters subfolder. Each filter has a link back to the plugin folder on the About dialog for easy access.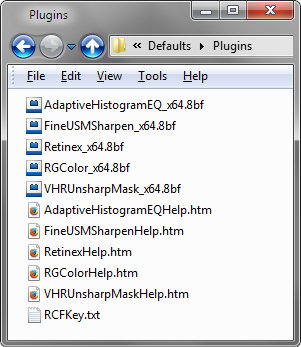 © 2019 by Russell Cottrell; released under the GNU General Public License.